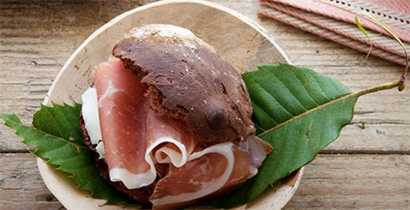 Ingredients for 8 persons:
400 GRAMS 0 FLOUR FOR BREAD
25 GRAMS BREWER'S YEAST
adjust the taste with SALT
1 SPOON WILDFLOWER HONEY
2 SPOONS BUTTER
1 SPOON COCOA POWDER
250 GRAMS CHESTNUT FLOUR
Preparation of chestnut bread
For breakfast or an aperitif, serve chestnut bread: here are all the steps to prepare it at home.
1) In a bowl, dissolve the yeast with a tablespoon of honey in a little warm water. Cover and let it stand for about 10 minutes. Sift the 0 flour (leaving 50 g aside) and the chestnut flour and place them in a heap on a pastry board with the cocoa, yeast and a pinch of salt.
2) Start kneading, then add the softened butter and pour in, a little at a time, 3 dl of warm water. Continue kneading the dough for another 5 minutes, then put it to rise in a warm place, covered with a damp tea towel. It will be ready when it doubles volume.
3) At this point, deflate slowly the dough and form into balls, dabbing the base in the leftover 0 flour. Transfer the balls to a baking sheet lined with parchment paper.
4) Cover and let rise for another 40 minutes. When the rise is complete, bake at 180° for 30-40 minutes. Serve chestnut bread warm, accompanied with cold cuts, but also with honey, butter or jam.
Chestnut bread: a bit of history
The recipe for chestnut bread originated as a poor dish resorted to by peasant populations who could not afford the more expensive wheat. Now widespread in several regions, chestnut bread traditionally belongs to the cuisine of Calabria and the Tuscan-Emilian Apennines.
Source: salepepe.it