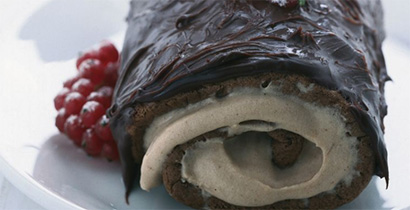 Ingredients for 6 people:
1 SPOON COCOA POWDER (SWEET)
10 CANDIED CHESTNUT
3 SPOONS SUGAR IN POWDER
100 GRAMS SUGAR
340 GRAMS CHESTNUT CREAM
400 GRAMS CAKE CREAM
20 GRAMS ALMOND FLOUR
100 GRAMS BUTTER
270 GRAMS DARK CHOCOLATE
70 GRAMS FLOUR
RED RIBES
7 EGG WHITE
6 EGG YOLKS
Preparation of the chocolate and chestnut cream roll
1) Start the recipe by chopping 200 grams of chocolate. Melt it in a double boiler, together with 200 grams of cream and powdered sugar. When everything is well blended, let it rest in the refrigerator until the next day.
2) In a saucepan, melt the butter with the rest of the chocolate in a double boiler, remove from the flame and let it become warm. Add the egg yolks and the 2 flours mixed together.
3) Whisk the egg whites together with the sugar and add them to the rest of the ingredients.
4) Take a rectangular cake pan lined with a sheet of baking paper, roll out the dough and level it to a thickness of 1 centimeter.
Baking the chocolate and chestnut cream roll
1) Bake the roll in a preheated oven at 180° for about 15-20 minutes.
2) Take the cake dough out of the oven, unmold it on a damp cloth and shape it into a roll.
3) Whip the cream, add chopped chestnut cream, cocoa and candied chestnut, then set aside in the refrigerator.
4) When the cream is firm, unroll the pastry, spread the filling and roll again. Decorate the outside in the same way and then serve the chocolate and chestnut cream roll decorated with red berries.
Source: salepepe.it